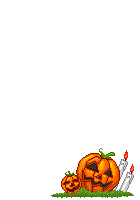 glitter-graphics.com
Trick or Treat Song!
< click here and sing along!
Halloween print and colour!
< click here to print!
Halloween is a traditional celebration held on October 31st.
Halloween began as an ancient Celtic festival in Great Britain and Ireland, and has survived most strongly among Irish, Scottish and Welsh communities. Immigrants from these communities carried the tradition to North America where it has gained in popularity.
Originally Halloween was a pagan festival, around the idea of linking the living with the dead, when contact became possible between the spirits and the physical world, and magical things were more likely to happen. Like most pagan festivals, long ago it was absorbed into the festivals of the expanding Christian church, and became associated with All Hallows Day, or All Saints Day, which eventually fell on November 1 under the Gregorian calendar.
Halloween is usually celebrated by both adults and kids. Some families celebrate by having costume parties and playing special games like bobbing for apples and telling ghost stories. Sometimes children go "trick or treating" - knocking on doors in their trusted neighborhoods collecting candy.